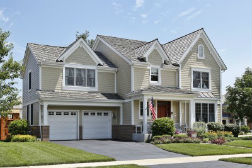 Last week's economic news included construction spending and the CoreLogic Home Price Index for January. Reports for February included ADP Employment, Non-Farm Payrolls and national unemployment data.
The Federal Reserve's Beige Book report and weekly reports on mortgage rates and new unemployment claims rounded out the week's economic news.
Highlights for last week include:
Consumer spending gained 0.40 percent for January. The expected reading was 0.20 percent and the reading for December was flat.
The Commerce Department reported that increased spending was less an indicator of consumer discretionary spending than an indicator of high utility costs caused by severe winter weather.
Construction spending ticked upward in January with gain of 0.10 percent as compared to expectations of -0.40 percent and the prior month's reading of 0.10 percent.
January's reading translates to a seasonally adjusted annual figure of $943.1 billion.
Federal Reserve: Winter Weather Obscures Accurate Economic Outlook
According to the Fed's Beige Book report, much of the U.S. economy was impacted by severe winter weather. The report is based on anecdotal information provided by business contacts and industry leaders throughout the 12 regions of the U.S. Federal Reserve System.
Eight regions reported slow economic growth. Janet Yellen, chairwoman of the Fed, noted that winter weather was not expected to alter the Fed's plan to continue reducing its asset purchases under its quantitative easing program. She also said that it may be months before accurate economic readings can be obtained in the aftermath of winter weather conditions.
Freddie Mac's Primary Mortgage Market Survey brought good news on Thursday as mortgage rates fell across the board and discount points were also lower in most cases.
Average mortgage rates were down nine basis points for a 30-year fixed rate mortgage at 4.28 percent. The average rate for a 15-year fixed rate mortgage was 3.32 percent, a decrease of seven basis points.
The rate for a 5/1 adjustable rate mortgage was 3.03 percent, down by two basis points from the prior week. Discount points were unchanged for 30-year fixed rate mortgages at 0.70 percent, but dropped to 0.50 percent for 15-year fixed rate mortgages and 0.40 percent for 5/1 adjustable rate mortgages.
Employment Sector: Surprise Results
The ADP payroll report showed a reading of 139,000 jobs added in February as compared to the prior month's 127,000 jobs. ADP tracks private sector jobs. The BLS released its Non-Farm Payrolls report for February, which also surpassed expectations.
175,000 jobs were added against expectations of 140,000 jobs added and January's reading of 129,000 jobs added. The national unemployment rate rose to 6.70 percent against an expected drop to 6.50 percent from January's reading of 6.60 percent. Once again, foul weather was seen as a major influence.
What's Ahead This Week
This week's economic news schedule is relatively light with no releases set for today.
Mortgage rates will be released by Freddie Mac on Thursday, along with weekly jobless claims. Retail sales and the University of Michigan consumer sentiment index round out next week's schedule.